Unitranche : is it really worth it?
Unitranche Debt Definition | Investopedia
Unitranche debt is a type of debt that combines senior and subordinated debt into one debt instrument; it is usually used to facilitate a leveraged buyout. The borrower would pay one interest rate to one lender, and the rate would usually fall between the rate for senior debt and subordinated notes. The unitranche debt instrument was created to simplify debt structure and accelerate the acquisition process.
After the 2008 financial crisis, US regulators tightened lending standards for banks funding commercial and industrial loans. This left a gap in the market that has been filled by 
unitranche 
products being offered by alternative lenders (Fig. 1).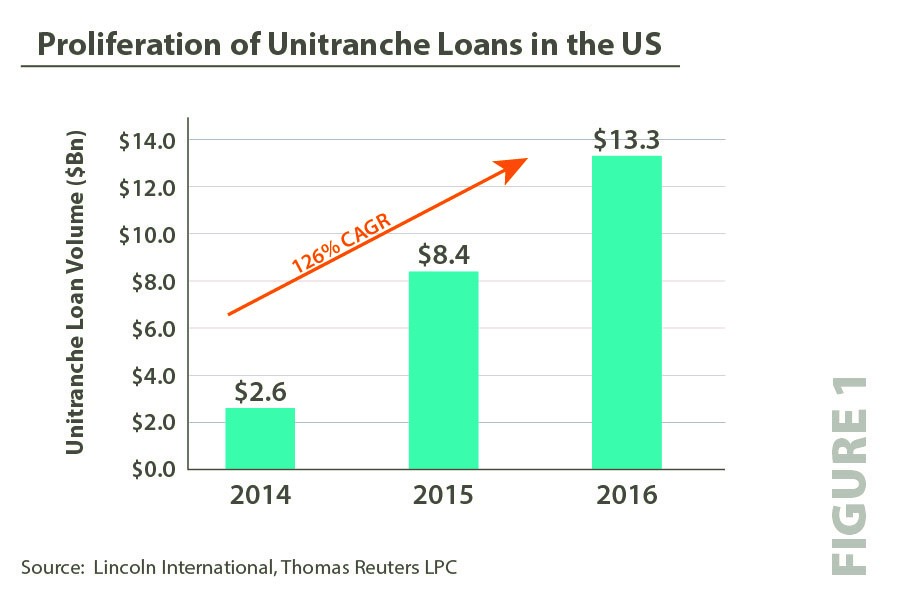 Unitranche can be an attractive alternative to the traditional senior and junior credit structure.  Because it is one combined product, unitranche lending simplifies the balance sheet and transaction process. However, a "convenience" premium is incurred with the extra structuring required.

Business Development Companies and other private lenders today have been offering unitranche loans to middle market businesses; therefore, the average yield of BDCs would be a fair comparison to the yield of unitranche.  Cliffwater LLC constructs a Cliffwater Direct Lending Index (CDLI) which captures data from 62 BDCs in the past twelve years and currently tracks $76 billion in assets (over 6,000 loans).  As shown in Fig. 2, the current average yield for unitranche is 10.1% with all-in yield to maturity of 11.7% (this includes original issuer discounts on the loans).

The high-yield market (Fig. 3) currently has an average interest rate of 5.9%, which implies that unitranche charges a 580bps premium above the market rate of traditional high-yield bonds. Bond Capital wants to point out that the 580bps premium is comprised of two components – the liquidity premium and the convenience premium.

Unitranche facilities are often held by the firm who issues them, subject to a liquidity risk premium. Research suggests that the illiquidity discount for private firms is between 20% and 30%, implying that unitranche should price in the low 7% range. With average unitranche yields at 11.7%, this suggests there is a significant convenience premium accruing to the unitranche lender.

Canadian banks have remained strong and continue to provide senior debt capital to businesses post-financial crisis. Unitranche lending activities have not been as prevalent in Canada as they are in the USA. In Canada and the USA, Bond Capital is able to structure cost-effective solutions for borrowers at a  lower blended rate when compared to unitranche. Bond Capital constructs cost-effective, two lender (senior/junior) debt structures for our borrowers. Bond Capital also provides repayment flexibility to match companies' projected cashflow.